MEMORY QUILTS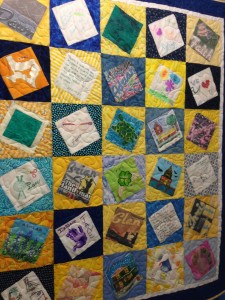 Memory quilts are a wonderful way to celebrate someone's special birthday or just a way of preserving reminders of a life well-lived. We can provide pre-cut muslin squares with instructions.  Just give to those who want to create a personalized quilt square. We'll take it from there.
Many of our clients wanted to preserve certain stages of their children's lives by having a quilt fashioned from their child's clothing. What fun it is for the child to see their loved items re-appear in a quilt!   
There is no restrictions as  to what can be turned into a quilt.   Just come to use with your items and we will find a way to preserve them forever.  The sky's the limit!
Contact us for a consultation and pricing.
MEMORIAL QUILTS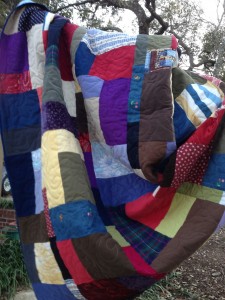 Memorial quilts are a path to comfort and renewal by wrapping oneself with a tasteful and custom piece of fabric art. The people for whom we have made such quilts have found peace and joy in the memories and "magical moments" contained in the metamorphosis of clothing into a quilt.
Each quilt is unique and customized to reflect both the loved one and the recipient of the quilt. We spend much time understanding both parties and work with enormous respect to the person and their articles of clothing. The result is a life fulfilling piece of fabric art which will be deeply loved and cherished.
Please contact us to set up a consultation.