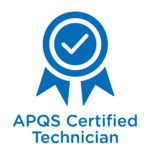 Over The Top Quilting Studio provides APQS Certified Service on APQS longarm machines right here in Central Texas. Chris and John are APQS Certified Technicians. Both are certified under APQS' rigorous service program conducted in Carroll, Iowa. They are certified by APQS for all manner of service and repair.
Please contact us if you need help. We can fix a problem, do warranty service, or perform preventative service on your machine to keep it running smoothly. We service all APQS machines, whether you bought your longarm from our Studio or somewhere else.  
Spa In A Box: Over The Top Quilting Studio offers an APQS certified Spa-In-A-Box service treatment. Spa-In-A-Box is equivalent to the "spa service" APQS has offered for years – only we do it for you right here in Texas. We can perform the service either at our studio or at your location. You no longer need to send your machine to Iowa.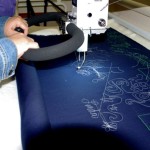 Our certified Spa-In-A-Box service:
♦ checks out your system,
♦ replaces worn out parts, and
♦ makes required adjustments.
Spa-In-A-Box covers labor and standard parts replacement, such as motor brushes, gear box oil, and pigtails. Additional parts are extra.  
Repairs: We are here to help you. We charge hourly for repairs. If you need us to come to your machine, standard mileage rates apply.
Warranty service: Because Over The Top Quilting Studio is the APQS showroom in Central Texas we will perform warranty service as directed by APQS.
Machine parts: If you need replacement parts for your APQS longarm quilting machine we stock a large variety and we can order whatever else you need.  
Why service? APQS longarm quilting machines are the highest quality and most reliable machines available. All APQS longarm quilting machines are backed by a Lifetime Warranty on parts and labor. But, just like a high quality automobile, regular service is recommended to keep your machine running flawlessly. We're also here to help if a problem arises, whether from a fault or from usage.
Remember, when you purchase an APQS longarm quilting machine you become part of the APQS family. And when you need help with your APQS machine, Over The Top Quilting Studio is here for you. Please contact us.