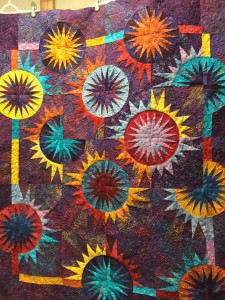 This 3 hour class prepares you to rent independent time on one of our APQS longarm machines. The class includes an hour of detailed instructions on use of machine controls, re-threading of top thread, replacement of bobbin thread, tension control, quilt loading via zippers and quilt advancement. During hours 2 and 3, you learn simple all-over designs, straight line creation, and problem management.
We will provide a simple quilt top, back and batting which, once finished, can be donated to a local quilt charity (e.g. AAQG Baby Bundles or Linus Connection).
Our fee includes your own set of zippers and pins which can be used to optimize your future rental time. Click to attend a Rental Certification Class.
If you have questions about the mechanics of using an APQS longarm quilting machine, please see our How_To page.
Details:
♦ This class is required for future longarm rentals at our studio
♦ Price: $130 
♦ Length: 3 hours
♦ Book now