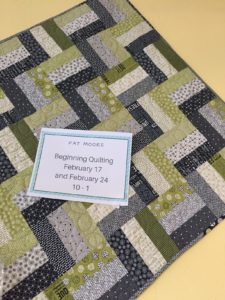 Do you want to learn to piece a quilt? This two session, hands-on class will teach you all the basics of creating a quilt top.
The two 3 hour sessions will teach you rotary cutting, color placement, precise sewing, and the rest of quilt top preparation. Bring your sewing machine for creating the quilt top. The second session will teach you how to assemble the blocks into a finished quilt top.
Our instructor is Pat Moore.
The price is $120.  Book now.
.
Supplies: (all but the sewing machine are available for purchase at the studio)
– 1 Jelly Roll
– 6.5″ square ruler
– Cutting mat
– Rotary cutter
– Backing and batting: 1.5 yds each
– Sewing machine and standard sewing machine supplies
Details:
♦ One class, two sessions of 3 hours each
♦ Second session is February 24 from 10:00 AM to 1:00 PM
♦ Maximum of 4 students
♦ Supplies are required. Bring your sewing machine.
♦ Price: $120 (a $25 deposit is required)
♦ Book now