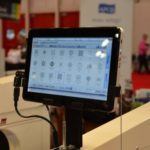 Learn how to use QuiltPath's PatternCAD to create and edit patterns. Learn how to manipulate your favorite patterns, join different patterns, draw your own patterns and more. Also taught in depth will be the features of mirroring, freehand drawing, and manipulating designs. Class is a blend of lectures and hands-on demos.
Class is 6 hours, 10:00 AM to 4:30 PM, with a 30 minute break for lunch, on February 10, 2018. Please bring your lunch. Class is $200. Book now.
Our instructor is Brenda Shreve. Brenda owns and operates Red Barn Quilting in Osage County, Oklahoma. In addition to learning the subtleties of Quilt Path, Brenda will make you laugh and fill you with stories of running a quilt store at the "end of a dirt road in rural Oklahoma."
Supplies: Bring a laptop or tablet with the latest version of Quilt Path, and your power cord.
Details:
♦ Price: $200 – a $25 deposit is required
♦ 6 hours with a 30 minute break for lunch on February 10, 2018 from 10:00 AM to 4:30 PM
♦ Maximum of 12 students
♦ Supplies are required. Please see above.
♦ Book now