Calling all Quilt Path users!!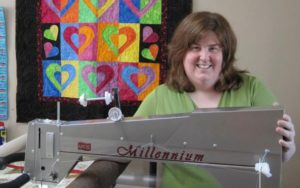 You've mastered computerized edge to edge quilting with Quilt Path.  You know how to set a pattern in a square block. You even know how to use Repair Pattern.  But Quilt Path can do so much more for your quilting.
Angela Clark of Thread Waggle Quilting in Raleigh, NC, Quilt Path Expert instructor, will teach a 3 day Quilt Path Camp at Over The Top Quilting Studio. Angela has traveled all over the world teaching users about Quilt Path and has produced a variety of online instructions about it.  But this hands on, in person, class is the most effective way to become a Quilt Path expert yourself.
Learn all the hidden secrets of Quilt Path; learn not just the WHY of a function but so much more importantly, the HOW and WHEN to use it. This 3 day Camp will cover all that and more.
We will supply lunch for you everyday.
Cost: $550 – A non-refundable $100 deposit required.
Supplies: please bring either a computer or Surface tablet with the latest version of Quilt Path installed on it. Be sure to also bring a power source.