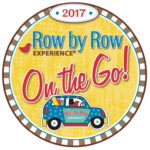 Did you miss our 2016 Row by Row during the summer? Order our "Bats Over Congress" pattern or kit from our webshop!  The pattern alone is $5 and the kit, with pattern and fabric is $20 (plus tax and shipping).
Our pattern was designed by Shannon Brinkley. We hope you agree Shannon did a great job capturing "Austin" in an easy-to-do scene.
We enjoyed meeting so many new quilters during RxR this Summer. We hope you enjoyed RxR and want our pattern to extend your collection.
Betsy Tieman was the first to show her quilt with our RxR pattern – "Bats over Congress" – and so Betsy won our part of the RxR quilt contest. 
.
.
Remember our "Bats Over Congress" pattern and "Bats Over Congress" kit are available for order at our on-line shop.