Over The Top Quilting regularly displays an artist's work at our Studio. Starting February 1st Maureen Moore Scheevel is our Featured Artist. We are privileged to have 8 of Maureen's works at the Studio.  Please stop by to see her quilts.
About Maureen: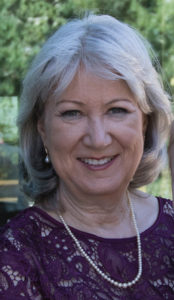 I'm an Austin transplant, but have lived here since 1979. Before then, I grew up in Houston, and graduated from Rice University with a degree in American Studies. There I met my husband, Mark and we have two married daughters and one toddler grandson, none of whom live in town. I worked for 21 years for the Texas Education Agency as an information specialist and policy analyst. Once our oldest started HS (… and marching band and track), I retired from the State and transitioned to a school volunteer and teen chauffeur. That gave me a lot more time to focus on my sewing!
Creative expression has been a part of my life ever since I can remember. I've done embroidery and needlepoint, crochet and knitting, and watercolor painting. My Mom taught me to sew when I was 11 and I made a lot of my clothes until I had kids. Then I started sewing for the girls –- fancy stuff like smocking and heirloom sewing, as well as play clothes. Once they tired of Mom-made outfits, I started quilting in earnest.
My first "real quilt" was a Yellow Brick Road pattern and I made a lot of simple quilts early on. One of my fellow HS band volunteers introduced me into a non-guild affiliated bee called the Block Party Quilters and I've been sewing with them since about 2004. We meet twice a month and also do a couple of block exchanges a year. In 2011, we designed and pieced Lone Star Fiesta, the donation quilt for the Chisholm Trail Quilt Guild. I've been active in that guild, serving in board positions and managing a variety of quilt show responsibilities. I also belong to the Austin Area Quilt Guild.
Just about all of my nephews, nieces, neighbors, and special friends have received a graduation quilt made by me. I've also gifted a number of wedding and baby quilts. I haven't kept track of how many quilts I've made to date but I'm sure it's well over 100! Paper-piecing patterns are often my favorites; appliqué, however, is not one of my strengths!
I discovered Over The Top Quilting Studio when I was soliciting donations for the 2016 CTQG annual retreat and took their introductory class that summer. Since then, I've tried a lot of techniques: free hand, pantograph, and Quilt Path. I have used patterns for edge to edge, blocks motifs, and borders, as well as made some customized adjustments. I love the flexibility of being able to quilt my work on my own timeline! Hopefully, I'll be able to improve my skills with more quilts and more practice!