Do you use a Singer "Featherweight" sewing machine (Model 221) for on-the-go sewing? Learn how to keep that wonderful antique in excellent condition for frustration free sewing and quilting. Dave Eaton from "So Old Sew New" will teach you skills, tips, and insider tricks to keep your favorite portable sewing machine running perfectly.
This 2.5 hour class is offered at our Over The Top Quilting Studio. Book now.
The class covers:
– Basic maintenance of the exterior of the machine: External cleaning and preservation; Cleaning and preserving the carrying case; Odor removal and drip pad replacement
– Basic maintenance of the machine head: Cleaning and dust/thread removal; Lubrication – How to and the best lubricants; Lubrication – Featherweight specific; Cleaning and lubrication in the bobbin case area; Bobbin tension adjustment; Cleaning and adjusting the top thread tension; Electrical,plugs,cordsandfootcontrols; Electrical, belt replacement and adjustment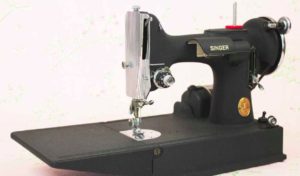 – Sewing on the Featherweight: Thread and needle selection and sizes; Bobbin winding; Thread tension adjustments for synthetic thread
– Other tips and tricks
– Final Tension Adjustments: Test sewing and Discussion
Supplies: (please bring with you)
♦ Your sewing machine with power cord and foot control
♦ A new needle (80/12 or 90/14); Schmetz quilting is recommended
♦ Cotton thread and two (2) full bobbins (C&C machine quilting)
♦ Test fabric to sew
♦ Hand or small bath towel.
♦ An apron or work shirt would be handy as well.
Details:
♦ Price: $45
♦ Class is April 21, 2018 from 10:00 AM to 12:30 PM at our Studio 
♦ Supplies are required.
♦ Minimum of 4 students; maximum of 6
♦ Book now