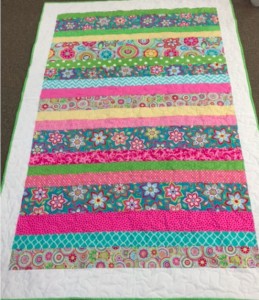 Summertime is just around the corner! It's the perfect time to introduce quilting to children! Quilting is a great way to unlock your kid's creativity. This is a beginner class so come and have fun! 
Each student in this 2 day class will make his/her own lap-size quilt top. The quilt will be made from simple strips but in a very free form fashion. The student will be given a large number of fabric strips to choose from and will have full control over the placement of the fabric.
Let your child learn a life skill and explore his or her creative side. This 6 hour (total) class is for beginners. The class is from 9:00 AM to noon on two consecutive days. Supplies are required.
Our instructor is Pat Romohr. Pat has taught adults and kid classes through several Bernina quilt shops for over 25 years. She is an active member of the Austin Modern Quilt Guild (AMQG) and Austin Area Quilt Guild (AAQG). In addition to teaching, Pat has her Sewing Palace where she teaches quilting, sewing and knitting classes. Pat loves to teach groups of children, adults as well as one on one! 
Students must know how to operate their own sewing machine. 
Supplies:
– sewing machine and bobbins
– thread (white and gray)
– pins
– scissors
– seam ripper
Fabrics are provided. Most supplies are available at the Studio.
No longarm quilting is involved in this class but is available as part of our normal services.

Details:
♦ Price: $100 – a $25 deposit is required
♦ Length: 6 hours total, across two consecutive days. 3 hours from 9:00 AM to noon each day
♦ 9 year olds and over
♦ Supplies are required. Please see above. All are available at our Studio, except the sewing machine and scissors.