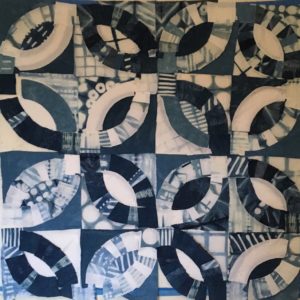 This Indigo Dyeing Class is a hands-on workshop during which you will learn complex and involved shibori techniques for dyeing with an organic, natural indigo vat. 
First, we'll tackle a shibori method using plastic and a domestic sewing machine to create beautiful patterns.  We'll learn to use a resist for painting designs onto fabric prior to dyeing. Book now.
We'll try our hands at capping parts of the fabric to create interesting effects and finally, we'll practice Arashi shibori (pole wrap) to create striking patterns on silk fabric with indigo dye.  By the end of class, we'll finish the dye process and you will have at least four pieces of stunning fabric to take home. 
No prior experience with indigo dyeing necessary. 
Our instructor is Irene Roderick.
Supplies are all provided. We recommend you wear clothes that can withstand dye splashes. 
– All dyestuff provided
– Fabric provided
– Tools will be provided
Details:
♦ Class is 5 hours
♦ On January 13, 2018 from 1:00 PM to 6:00 PM at our Studio
♦ 4 students maximum
♦ Price: $130
♦ Book now