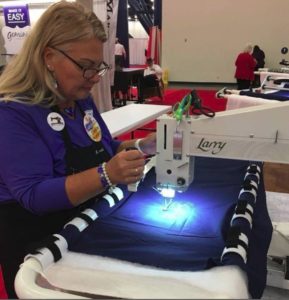 This machine is not available. Meet Hooped Larry, the newest APQS longarm quilting machine. Larry's innovative hooped table fits in a 5 foot work space but can still quilt any size quilt.
Make no mistake, even in a smaller work space and priced at less than $8,000 Larry has all the renowned APQS features.
Hooped Larry is backed by the unmatched APQS lifetime guarantee* and is available with installation and service by Over The Top Quilting Studio.
You can make Hooped Larry even better:
♦ Add rear handles and a rear laser light for pantographing for $500
♦ Add Bliss track system for $1,000
Contact us today to learn more about this exciting new member of the APQS family of longarm quilting machines.
Larry's specifications:
♦ Throat Size: 18″ x 8″
♦ Weight: 34 lbs (14.42 kgs)
♦ Footprint: under 5 feet
♦ Needle speed – 0-2400

Larry's features:
♦ Hooped table for a reduced work space
♦ Stitch regulator
♦ Interchangeable hopping foot
♦ Bobbin options
♦ Synchronous belt drive system
♦ Self-lubricating bushings
♦ LED lighting
♦ Quiet, enclosed DC motor

.
.
♦ Single disc thread tensioner
♦ Auto needle positioner
♦ Single stitch button, two position
♦ Laser Stylus
♦ Lifetime warranty
♦ Lifetime customer support

* Fully warranted to the original owner against defects in materials and workmanship for the lifetime of the product (including parts and labor)