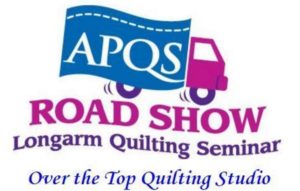 The APQS Road Show seminar is coming to Central Texas at our Over the Top Quilting Studio on Saturday, March 4, 2017 from 1:00 PM to 4:00 PM!
This is your chance to discover which APQS longarm quilting machine is right for you. This 3 hour FREE seminar is designed for everyone: quilters who do not currently own a longarm machine, current APQS owners who are looking to upgrade, and quilters who are thinking about starting their own quilting business.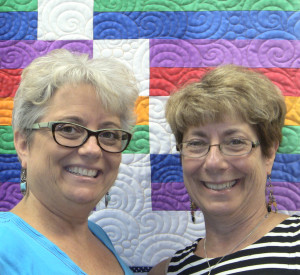 The seminar provides you with valuable information about owning a quality longarm machine. Talk with us, Chris and Susan, about our studio and quilting community. Try out one of APQS's industry leading longarm quilting machines. Special prices are available on all APQS machines during the Road Show.
To pre-register by March 1st, click here, email us at info@nulloverthetopquilting.com, or call us at 512-358-4605. Spaces are limited.
The Central Texas APQS Roadshow will be Saturday March 4, 2017 from 1:00 PM to 4:00 PM at our studio:
Over The Top Quilting Studio
200 Buttercup Creek Blvd – Suite 111
Cedar Park, TX 78613
The APQS Roadshow seminar includes:
Discover resources for templates, batting, freehand instruction manuals, wholesale contacts, thread, etc.

Find out where to buy pantograph patterns, books and stencils to make your longarm quilting fun and hassle-free.

Learn business philosophies, products and services, pricing, marketing and income forecasting. (You'll even get a Sample Business Plan.)

Explore the differences between each APQS machine model and adding computerized quilting to a new or previous APQS machine.

Learn which accessories are the "gotta haves" to make your quilting fast and easy.

Learn how to oil, clean and service your machine to provide years of quilting fun.
To preregister by March 1st, contact us at info@nulloverthetopquilting.com, call us at 512-358-4605, or book now.
We hope to see you at the Central Texas APQS Road Show.