What goes on in a binding class?! Well I'm glad you asked! We put this class together because many quilters told us they get stuck after quilting. We wanted to help folks move past that point to finish and be able to use or gift their quilt. Book now.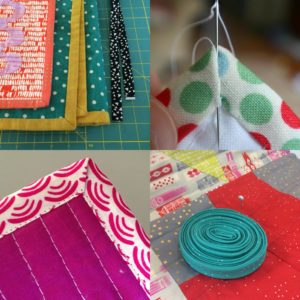 You'll learn and try several binding methods during class. We want to give you a variety of techniques that you could try out and enable you to decide your favorite methods – or the right one for a particular quilt.
You'll learn how to make straight grain and bias binding, single and double fold, create beautiful mitered corners, connect the ends two ways, machine and hand finishing, and tips like glue basting. You'll get hands-on practice of all of these with guidance, plus demos of some fun extras like a flange (piped) binding and self-binding.
Your class fee also includes:
♦ Mini quilt sandwiches that we'll prep ahead of time for you to practice techniques on during class
♦ A great, fully-illustrated book on the many ways to bind a quilt: "There's More Than One Way to Bind a Quilt." The book will be your reference after class.
Our teacher is Colette Wilson. Her love of quilting developed as a child, exposed to the rich heritage of Amish quilters in Waterloo County, Ontario, Canada. She embraces both modern and traditional quilting methods and often finds unique ways of combining both. Colette has taught sewing, machine embroidery and quilting techniques at various locations including her current position with the Viking Sewing Gallery in North Austin. Colette is a lifelong learner and enjoys sharing that passion with others. Book now.
Supplies: The tools and supplies are available at our studio. Fabric purchased for class at Sew Crazy right down the street receives a 10% discount when it's purchased for class – just let them know. They have lots of precut fat quarters which are perfect for these projects.
– Sewing machine with all feet, extra needles, bobbins and thread
– 1/2 yard woven cotton for binding
– machine piecing thread
– hand quilting thread
– fabric marking pen or tailor's chalk
– quilter's ruler or grid ruler
– hand sewing needles (applique needles, small betweens / quilting needles, small embroidery needles)
– wonder clips or pins
– rotary cutter
– thread snipper
– seam ripper
Details:
♦ Price: $75
♦ Six students maximum
♦ Length: 3 hours. Class is at our Studio at these times: 
– January 16 from 10:00 AM to 1:00 PM
– January 25, 2018 from 5:00 PM to 8:00 PM
– March 3, 2018 from 10:00 AM to 1:00 PM
– March 15, 2018 from 5:00 PM to 8:00 PM
♦ Supplies are required. Please see above. Most are available at our Studio
♦ Book now