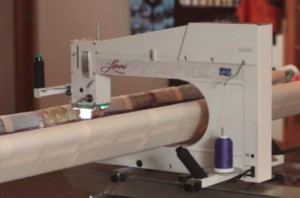 This sale is over. Over The Top Quilting Studio offers a new Lenni APQS longarm quilting machine for $8,900 – a $2,000 discount! The Bliss Track system is also available on your new Lenni for just $1,000 more! (Shipping and handling are extra) This is a limited time offer, so contact us today. Email us or call us at 512-358-4605.
Lenni is one of the legendary APQS machines which is targeted at the home user. It has a 20" throat which allows the quilting of up to a 12" block on point without any additional manipulation. Lenni is the essence of APQS in its simplest, purest form – a fun and affordable longarm. Everything is designed, engineered and crafted to be approachable, inviting, and simple to use. Lenni's shorter throat space provides a closer reach. (See additional features below)
The Bliss aluminum alloy table rails make quilting a breeze! With Bliss, you'll be able to quilt for hours on end without the fatigue felt with cumbersome track systems or heavier machines.
Your Lenni also comes with:
Lifetime warranty

Lifetime customer support

Free one-day beginner class, videos, and personal support from Over The Top Quilting Studio

Stitch Regulator and ergonomic handles 

Interchangeable hopping foot

Bobbin options

Synchronous belt drive system

Self-lubricating bushings

Bright, clear LED lighting

Quiet, enclosed DC motor

Single disc thread tensioner

Auto needle positioner

Single stitch button, two position

Easily follow a paper pattern with the Laser Stylus

Stand alone Sidewinder Deluxe bobbin winder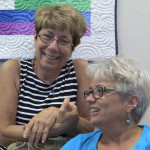 .
Support and education are available from us at Over The Top Quilting Studio. If you ever do have a problem, our Studio offers service Certified by APQS right here in Central Texas.
.
.
Interested? Please contact us via email or phone:
♦ 512-358-4605 (land line)
♦ 512-466-2385 (texts welcome)
♦ 512-971-5721 (texts welcome)